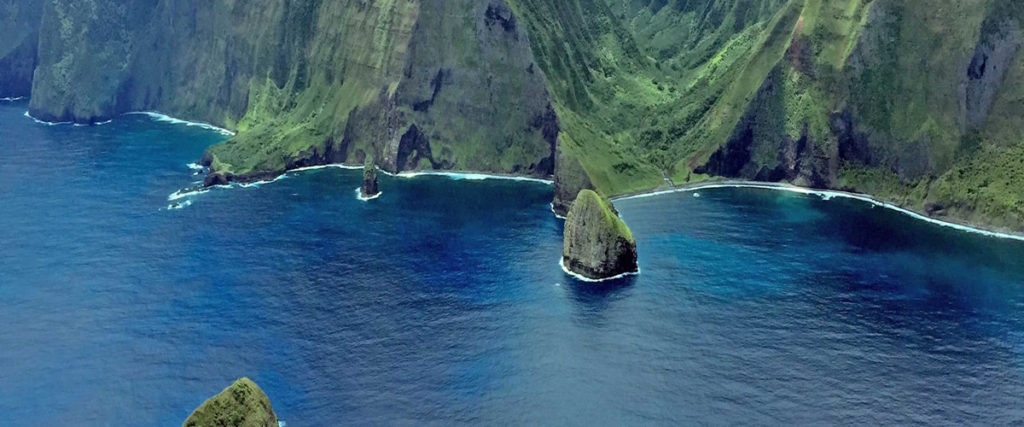 Moloka'i nicknamed "The Friendly Isle"
The fifth-largest island of eight major islands that make up the Hawaiian Island Chain in the middle of the Pacific Ocean. It is 38 by 10 miles (61 by 16 km) in size at its extreme length and width with a usable land area of 260 square miles (673.40 km2). It lies east of Oʻahu across the 25-mile (40 km) wide Kaiwi Channel and north of Lānaʻi, separated from it by the Kalohi Channel.
Molokaʻi is part of the state of Hawaiʻi and located in Maui County. Maui County encompasses Maui, Lānaʻi, and Kahoʻolawe in addition to Molokaʻi.
Kaunakakai is small but the largest town on the island, one of two small ports on the island. Sometimes it is considered to be the "capital" of Molokai, but officially the whole island is in the County of Maui.
The island can be traversed by a single-lane highway running east to west (highways 450 and 460). Highway 470 is a spur up to the barrier mountains of Kalawao County and the Kalaupapa peninsula. By land, this area (Kalaupapa) can only be reached by mule and hiking trails. Most access to the Kalaupapa peninsula is by sea.
There are no big box stores on Molokai. Small mom-and-pop stores are the norm. Molokai Minimart,  Maunaloa General Store, and Saturday Market & Sale are just a few places to shop.
There are only two gas stations on Molokai both located in Kaunakakai.
Molokai Listings
Sorry, but we couldn't find any results in the MLS that match the specified search criteria.
Get in touch and we'll get back to you as soon as we can.
We look forward to hearing from you! Mahalo.
William "Buz" Moffett, Owner/Broker   RB-15857
808-870-6794
[email protected]
Kelly Robinson, Office Manager & Sales Associate   RS-81469
808-264-7232
[email protected]
Contact us now with your questions.